Installing a skylight on the roof of a camper expedition vehicle brings many benefits. Some of these advantages are:
A skylight lets in a lot of natural light
The view can be enjoyed from the skylight in the vehicle
A skylight gives a spacious feeling
Skylights promote air circulation and the supply of fresh air, enhancing the outdoor feeling.
A skylight made of glass
The material a skylight is made of is very important due to the harsh weather conditions, vibrations and shocks that can occur during off-road adventures. For instance, unlike plastic windows, tempered glass windows are less prone to the damage caused by branches and stones that can land on top of the vehicle. Moreover, tempered glass is more resistant to high temperatures. Plastic skylights, on the other hand, are lighter than glass skylights. Skylights from Outbound use double tempered glass. Here, the ECE R43 and DOT certification is important. This means that the glass is permitted for vehicles on public roads.
A skylight suitable for travelling
In high-altitude areas, there is a pressure difference compared to low-altitude areas. When travelling to high-altitude areas, the pressure drops, but the pressure in the glass remains the same. This is why a pressure valve is essential in skylights for campers and expedition vehicles. The pressure valve regulates the pressure differences between the glass panes. This prevents the glass from bulging and possibly breaking when the air pressure outside drops. During rapid changes in height, a pressure valve allows air to pass through briefly, bringing the internal pressure back in line with the pressure of the outside air. Outbound windows and skylights are fitted with a pressure valve.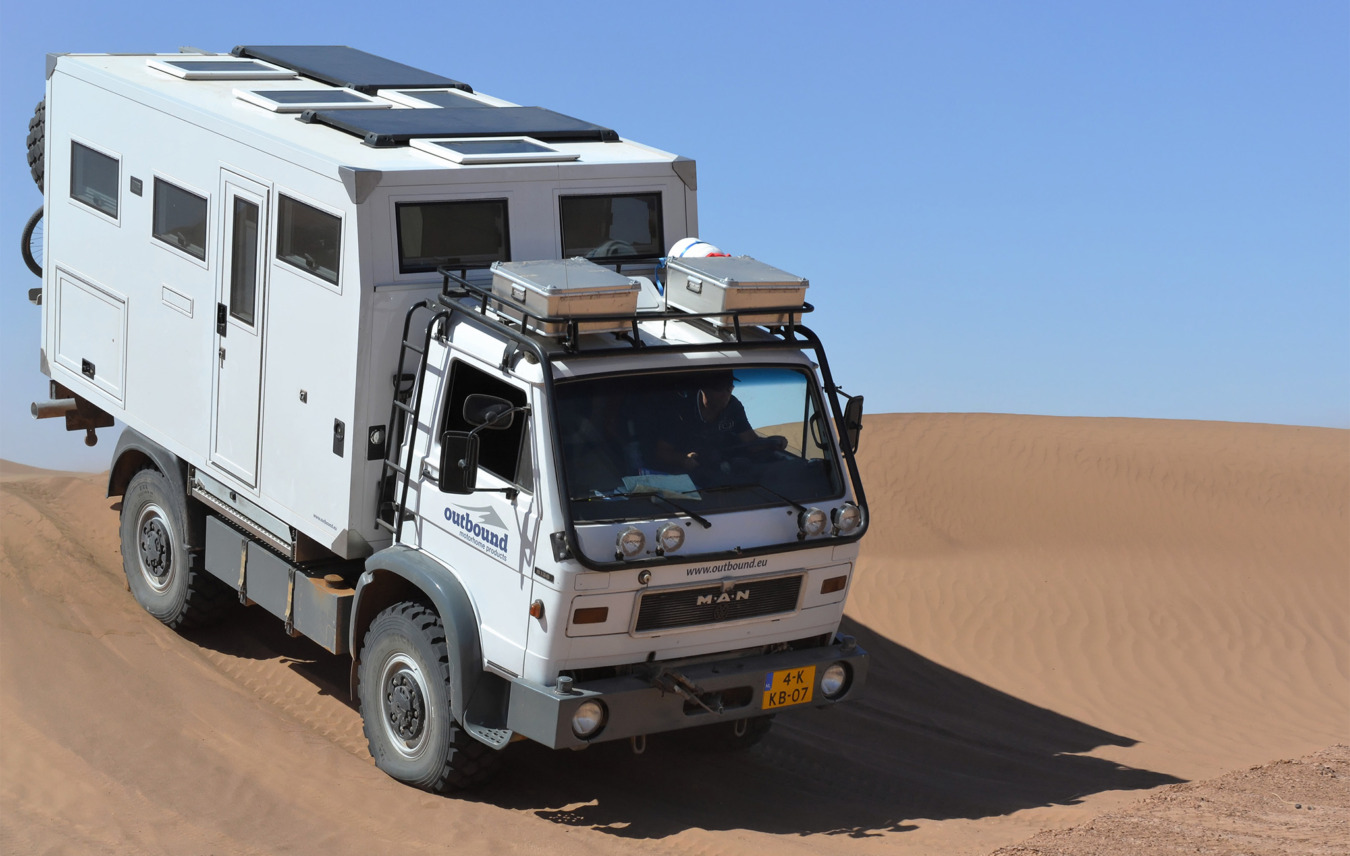 Skylight isolation
Good skylight insulation is essential. This means that in cold conditions heat loss is minimised and in warm conditions heat is kept out as much as possible. There are several factors that affect insulation performance:
Double glazing
Skylights fitted with double glazing, including those from Outbound, reduce heat transfer from inside to outside and vice versa. It helps reduce heat loss in winter and keeps the interior cooler in summer.
Isolating materials
Skylight frames are often made of materials with isolating characteristics. For example, plastic or fibreglass-reinforced plastic. Aluminium, on the other hand, is less suitable as it is a material that conducts heat and cold well.
Sealing
A good skylight seal is essential to prevent water and heat ingress. Skylights come with seals, for example rubbers, that seal the space between the window and the vehicle. Among other things, this prevents drafts and heat loss, but during hot days it also prevents hot air from entering.
Solar shading
Skylights can also have solar shading, such as sunshades or darkening curtains. These can be used to block direct sunlight and prevent excessive heat gain.
Installing a skylight: the key points
When installing a skylight, it is important to consider several aspects. Some aspects are:
Size and weight: Motorhome roofs have limited space and carrying capacity, so choose a skylight that fits the available space and is not too heavy for the roof. The skylight should fit well and also be able to be mounted safely and securely without weakening the camper's structure.
Materials and construction: Choose a skylight suitable for use in an camper. The skylight should be able to withstand vibration, shock and temperature fluctuations. Materials such as fibreglass-reinforced plastic are often suitable as they are lightweight and have durable characteristics.
Roof thickness: the roof thickness of the vehicle can affect the mounting method used when installing the skylight. How roof thickness is taken into account when installing a skylight varies from manufacturer to manufacturer. At Outbound, a skylight is made based on a vehicle's roof thickness.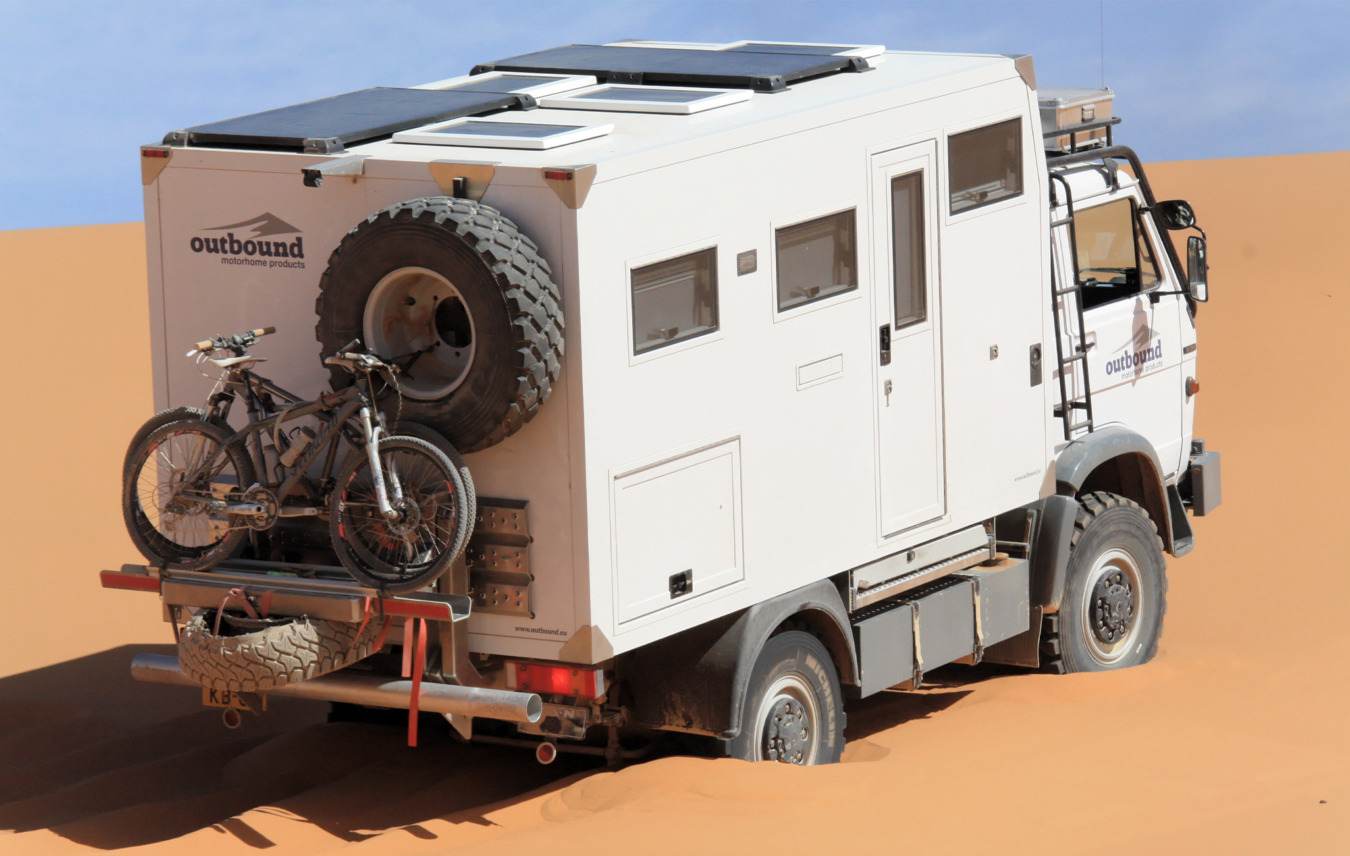 The additional options for a skylight
Besides the basic functions of a skylight, there are often additional options you can consider adding to the skylight of your camper or expedition vehicle. These options can increase the comfort, convenience and functionality of the skylight. Examples include:
Skylight roller blind
The mosquito net can feature insect netting to keep insects out while you enjoy fresh air and ventilation. In addition, the screen can also feature blackout fabric, blocking out sunlight, allowing you to enjoy more privacy in your camper or expedition vehicle and keeping it dark at desired times. A roller blind from Outbound includes both insect mesh and shading fabric.
Skylight cover plate
A cover plate is slid over the skylight on the outside of the vehicle and the opening is blocked on the inside. This ensures that the skylight cannot be opened, protecting the vehicle from break-in. In addition, the cover plate acts as protection, preventing the skylight from being damaged. Furthermore, it blocks sunlight, reducing the heat inside the vehicle.